Dental Implants Fitchburg
Dental Implants: the Solution You've Been Looking For.
Missing teeth? Come in to Watkin Dental Associates for a consultation to learn more about the best dental implants Fitchburg has to offer.
What Are Dental Implants?
Dental implants are exactly what they sound like. They're prosthetic teeth that are surgically implanted into the jawbone using metal, screw-like posts to act as the roots. They both look and function like real teeth, offering a superior alternative to dentures or bridgework that doesn't fit well.
Why Get Dental Implants?
Why should you even consider getting the best dental implants Fitchburg's Watkin Dental Associates can provide? Because as we've said before, they're a superior form of tooth replacement. Dentures can slip and slide, and may not fit very well. Plus, they require extra maintenance. Dental implants, on the other hand, don't. They're surgically implanted into the jawbone, which means that they won't slip, make noise, or cause damage to the bone the way some bridgework or dentures may. Since they're just like your real teeth, they're also easier to clean, too.
Are Dental Implants Right For You?
This restorative dental procedure may be a good fit for your mouth if you have one or more missing teeth, you have a jawbone that's reached its full growth, your jawbone is adequate to support the implants (or you're able to have a bone graft), your oral tissues are healthy, you don't have any health conditions that could affect how your bone heals, you're unable to wear dentures, you want to improve your speech, and you're willing to commit to the process, which can take several months.
To learn more about this exciting treatment, come in for a consultation with Watkin Dental Associates, the best dental implants Fitchburg can offer.
Related Articles for Dental Implants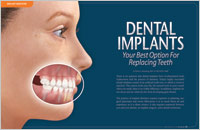 Dental Implants – Your Third Set of Teeth
A discovery fifty years ago paved the way for one of dentistry's most exciting, natural looking and successful tooth replacement systems. Learn how dental implants might just possibly change your life… Read Article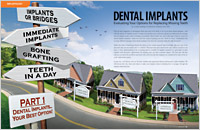 Dental Implants – Evaluating Your Options for Replacing Missing Teeth
As we guide you through the marketing hype you'll see that well planned implants most often require a team approach in assessing whether they're right for you. Not only are they a better treatment choice, they will last longer, possibly a lifetime, making them the right choice and the most cost effective option long term… Read Article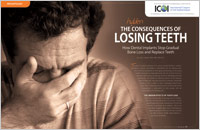 The Hidden Consequences of Losing Teeth
For those missing even one tooth, an unsightly gap is actually the least significant problem. What's of far greater concern is the bone loss that inevitably follows tooth loss. Dental implants fused to the jawbone can preserve bone, improve function and enhance psychological well-being. Learn how implants serve both as anchors to support replacement teeth, and preserve bone as one of the better preventive maintenance procedures in dentistry… Read Article