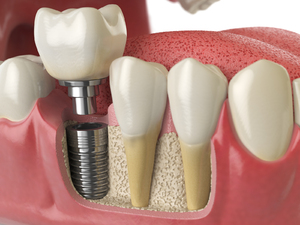 Dental implants have become very common, and the procedure is quite routine, very safe and successful. However, as with any medical procedure, there is always some risk involved. If you are considering or scheduled to have a dental implant, it is important to be aware of the risks to prevent any severe complications.
What Are Some Risks of Dental Implants?
Some of the most common risks, according to News-Medical are a failure to integrate, perforation, infection, and nerve or tissue damage.
Failure to integrate – This is when the implant is not placed in the bone properly, so the surrounding bone does not accept and fully integrate it to provide the necessary support and stability. Antibiotics are often given to help with integration. If the bone does not fuse, the implant can be removed, and in a few months, your family dentist or implant specialist can try the procedure again.
Perforation – This complication is when a nearby structure is damaged during the placement of the implant. Sometimes the sinus cavity or other parts of the mouth or jaw are injured.
Infection – An infection can occur after a dental implant procedure in the specific or surrounding area, or even throughout the body. Dentists will often provide antibiotics after the procedure in order to help prevent infection. The more you adhere to your dentist's aftercare recommendations, the lower your chances of infection.
Other Complications – Some other complications that are linked to dental implants are nerve injury, tissue necrosis, gingival recession, or excessive bleeding.
Do Certain Things Contribute to Risk?
Yes, some habits can contribute to an increased chance of risk with dental implants. For instance, smoking can cause complications with dental implants.
If you can closely follow your dentist's recommendations for post-op care, you will reduce your chances of complications. For instance:
Keep the surgical site clean and be gentle with it.
Take it easy the day of and the first few days after an implant procedure.
Hold off on heavy lifting and intense exercise.
Be cautious of what foods you eat as certain foods may aggravate the site.
Do not drink anything from a straw as this can impede healing.
Take all medications to prevent swelling and infection.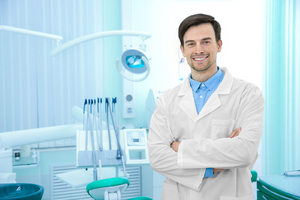 Good News!
Though the risk above may provoke doom and gloom when it comes to dental implants, this procedure is a highly successful, low-risk way to replace missing teeth. Dental implants preserve the integrity of your mouth and facial structure. The procedure is quite routine, and implants are easy to care for. Complications can happen, but they are quite rare.
If you follow your dentist's instructions and make sure your dentist or implant specialist is well qualified to complete your dental implant procedure, you will likely have a natural tooth replacement that lasts a lifetime. Make sure to discuss any concerns or questions with your dentist, and if you would like, call us to discuss your options. We would love to talk to you. Our experienced, qualified and compassionate specialists are happy to work with you.